June's winter weather means people are on the move. Sydneysiders are hitting the slopes of New Zealand's South Island ski fields, and sampling the cultural and tourist hotspots in the North Island's two largest cities. Kiwis are escaping the rain of a sodden 2023, and flocking to the nightlife and excitement of Australia's Harbour City. Folks in both countries are keen to spend these long mid-winter evenings with family and friends across the ditch.
On VATSIM this June, Sydney is truly where it's at, in Cross the Ditch 24: Sydney Waves.
Featured for Cross the Ditch 24
Airport Focus: Sydney, Australia
This event puts Sydney, Australia front and centre. The busiest airport in Australasia, Sydney's Kingsford Smith International (YSSY/SYD) is a hub in the operations of many of the region's largest airlines.
We will be bringing this bustle to VATSIM for Cross the Ditch 24 by using Sydney as the Australian airport in each of the event's Waves.
Sydney (YSSY) will alternate as first destination, and then origin for five waves of flights linking Australia with three fan-favourite airports in New Zealand: first Wellington (NZWN), with its short runway and reputation for windy weather; then Queenstown (NZQN) with challenging approaches amid mountainous terrain; and finally Auckland (NZAA), New Zealand's largest city, recreating the two busiest international flight sectors in the entire Oceania region.
The Wave Schedule will allow enterprising pilots to complete all five sectors over the course of the day. Whether you fly only one wave or make it through all five, Cross the Ditch 24 will show why Sydney is such a special place.


What's it all about?
For twenty hours this June, the skies over the Tasman Sea between Australia and New Zealand will be filled with aircraft all on a mission to Cross the Ditch.
An example of that typical down-under understatement, this "ditch" is over 1100nm wide. The flight routes all range from two and a half to three and a half hours flight time.
Throughout the event, Oceania's two divisions – VATNZ and VATPAC – will be providing full gate-to-gate ATC coverage, in the Southern Hemisphere's premiere oceanic event.
This is a great opportunity to experience Oceanic flying without the need to commit to an eight-hour flight!
If you're new to Oceanic Flying, our reporting tool makes taking part a breeze.
Event Times
This twenty hour event is timed to allow pilots from all over the world to join the fun:
UTC: Saturday 10th June 2023 18:00 - Sunday 11th June 2023 14:00
AEST: Sunday 11th June 2023 04:00 - Monday 12th June 2023 00:00
NZST: Sunday 11th June 2023 06:00 - Monday 12th June 2023 02:00
Waves
This season's event is organised in waves. Each airport will have a three-and-a-half-to-four-and-a-half hour departure window, during which time flights will be able to leave for the next destination. As the window closes, the departure window will open at the next destination.
Given each of the flights is 2.5 - 3.5hrs in length, the previous wave's flights will be arriving at the same airport as the next wave departs, maximising the amount of traffic at each airport.
NOTE: in order to ensure that you have ATC coverage throughout your flight, you MUST fly the wave route that is active at the time of your departure.
The individual routes are designed to ensure as much opposing traffic enroute as possible.
Each flight passes from one Oceania division to the other, and the result is six mini-flyins over the course of twenty hours!
The Waves for Cross the Ditch 24: Sydney Waves are:
Wave
Flight
Departure Window
UTC
AEST
NZST
1
Wellington, New Zealand (NZWN) to Sydney, Australia (YSSY)
1800-2130
0400-0730
0600-0930
2
Sydney, Australia (YSSY) to Queenstown, New Zealand (NZQN)
2130-0130
0730-1130
0930-1330
2a
Sydney, Australia (YSSY) to Christchurch, New Zealand (NZCH)
2130-0130
0730-1130
0930-1330
3
Queenstown, New Zealand (NZQN) to Sydney, Australia (YSSY)
0000-0430
1000-1430
1200-1630
3a
Christchurch, New Zealand (NZCH) to Sydney, Australia (YSSY)
0000-0430
1000-1430
1200-1630
4
Sydney, Australia (YSSY) to Auckland, New Zealand (NZAA)
0330-0800
1330-1800
1530-2000
5
Auckland, New Zealand (NZAA) to Sydney, Australia (YSSY)
0630-1030
1630-2030
1830-2230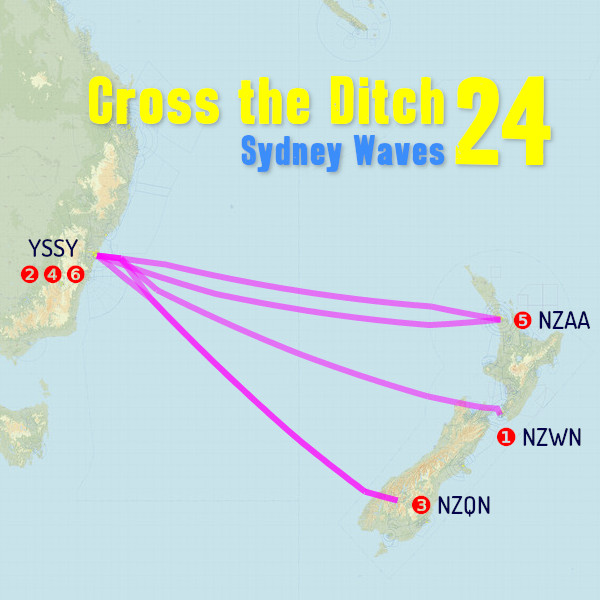 Calling all Pilots and Controllers
Flight plans are available from the Flight Plans section.
Book your flights now from the Flight Bookings page. Bookings made on this site help us plan for the event, and will also show up in vroute.
Controllers wanting to get in on the action can also apply now at the event's ATC Applications page.
Cross the Ditch is brought to you by VATPAC and VATNZ
Airports
Positions
Callsign
Radio Name

Frequency

Freq

CTR
NZAA_CTR
Auckland Control
123.900
NZCH-S_CTR
Christchurch Control
129.300
NZCH-T_CTR
Christchurch Control
123.700
APP
NZAA_APP
Auckland Approach
124.300
NZCH_APP
Christchurch Approach
126.100
NZQN_APP
Queenstown Approach
125.750
NZWN_APP
Wellington Approach
119.300
DEP
NZAA_DEP
Auckland Approach
129.600
NZWN_DEP
Wellington Departures
122.300
TWR
NZAA_TWR
Auckland Tower
118.700
NZCH_TWR
Christchurch Tower
118.400
NZQN_TWR
Queenstown Tower
118.100
NZWN_TWR
Wellington Tower
118.800
GND
NZAA_GND
Auckland Ground
121.900
NZCH_GND
Christchurch Ground
121.900
NZWN_GND
Wellington Ground
121.900
DEL
NZAA_DEL
Auckland Delivery
128.200
NZQN_DEL
Queenstown Delivery
121.900
NZWN_DEL
Wellington Delivery
128.200
Flight and ATC Bookings
We encourage pilots and controllers alike to book your intention to fly or provide ATC using vroute.
These bookings display on the VATNZ website and allow others to know when and where to expect pilots and controllers to be online.
VATNZ Events Mailing List
To keep up to date with all the events taking place in the VATNZ division, subscribe to the VATNZ Events Mailing List. Receive reminder emails before each event detailing what's happening and where.